1971 - First Bike: Honda SL125 1971 model.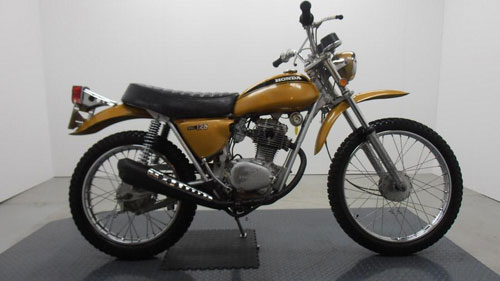 1972 - 1976 First Race Bike: Husqvarna CR250 1972 model.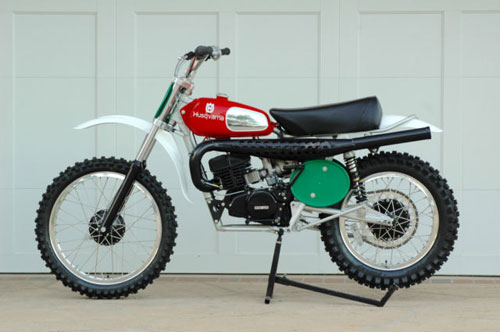 1977 - 1979 - CZ400 1977 model, Raced for Jawa-CZ GB.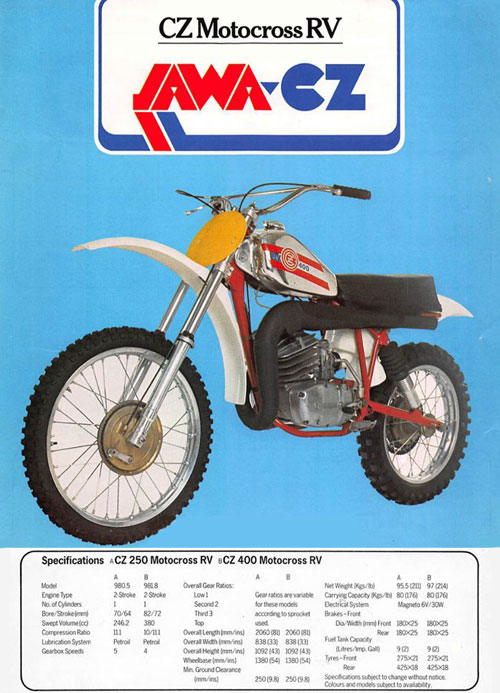 1979 - Montesa 250VB 1979 model.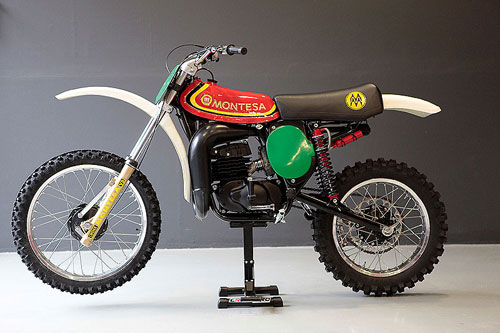 1980 - Montesa 250VF 1980 model.
1996 - 2003 - Ducati 916 1996 model at Phillip Island, Siberia in the wet.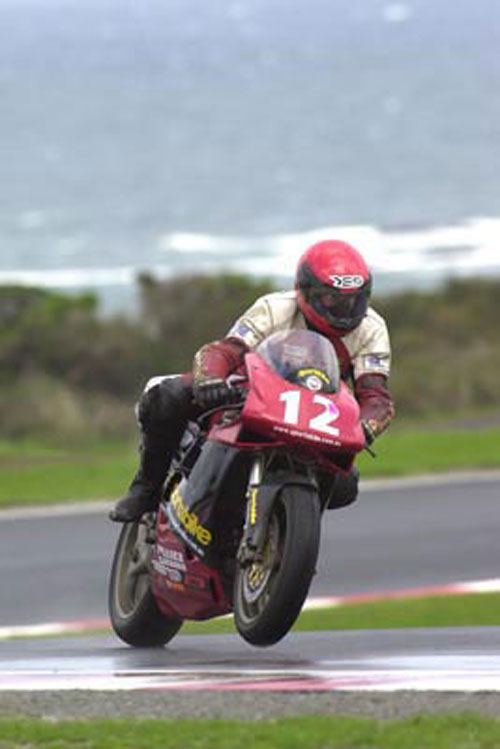 2003 - 2009 Ducati 999S 2003 model at Australian Superbike Championship Phillip Island.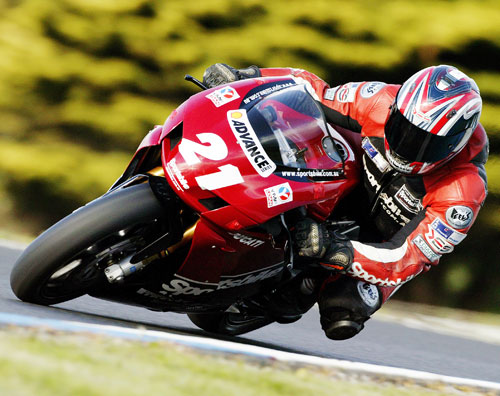 2010 - Ducati 1198S 2010 model 3rd in National BEARS Championship in 2012.
2013 - After race discussion with the mighty Mick Johnston.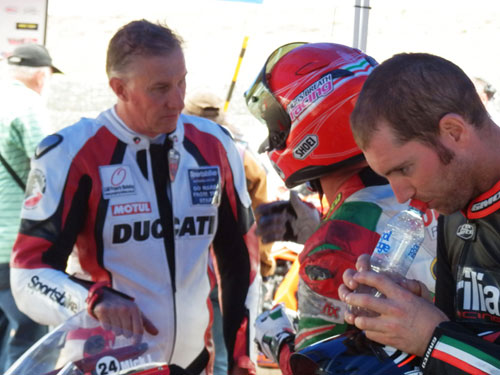 2018 - After 36 Years away from Motocross, I choose to race a 1979 Honda CR250 RZ Red Rocket.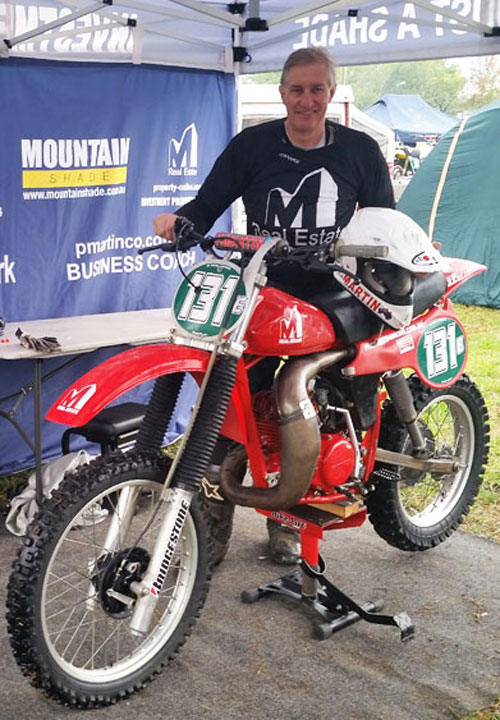 2018 - The first steps (Jumps) are always the hardest.
2018 - Year one: one Championship and two 3rds - 250cc EVO Podium from Left; 1st Brendan Richards, 2nd Chris Drabsch, 3rd Peter Martin.
2019 - Also racing a 1982 CR125 RC - 5th in the 2019 Australian 125cc Pre-1985 Championships.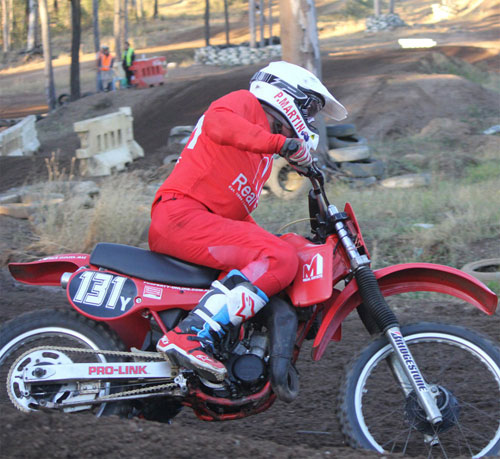 About
"I enjoy riding in the wet, it is so much more fun".
When young Peter Martin asked his Parents if he could have a Motorcycle his Mother was horrified so his father diplomaticly said "when you can kick start one, you can have one".

Now, Peter's Father John had ridden Motorcycles before the second World War, during the war and after, the names Brough Superior, Vincent and Arial Square Four were frequently mentioned, he had also dabbled in some racing although fokelaw suggested that the 'Off Road Racing' on a Brough was realy only practice for getting home from the Pub through Farms and paddocks (those were the days).

So Peter reasoned that the effort to kick start a Brough Superior was considerably greater than the new Honda singles of the 1970's. So off he went and practiced on friend Francis 'Jumbo' Morgan's shiny 'new' green Honda XL100. The day arrived when Peter would be put to the Test, he realy did try to make it look a little difficult and the XL100 sprang into life with a single kick... Game over.

So the joy of motorcycling started. First was a Honda SL125 (Gold Tank) with Knoblies fitted, the Knobblies were great on the farm and Peter frequently found their limits on the road. A number of crashes without injury forced further consideration as to where and how to ride. Out riding with Francis one Sunday the Boy's passed an organised Scrambles event and this provided the answer, Peter lived on a farm so having a Motocross track for practice was not that difficult. The Honda was sold and Peter picked up a second hand 1972 Husqvarna 250CR and started to practice.

Peter commenced racing Motocross in New Zealand in 1974 gaining good results and a national top 30 ranking by 1976. During this time he was mentored by World 125 Motocross Champion Gaston Rahier who provided guidance and encouragement. In 1976 with encouragement from Paul Orritt and Paul and Steve Harrison, Peter Traveled to England and after half a season racing a Privateer Husqvarna 250, secured a position on the JAWA / CZ GB Factory Team and raced on a CZ400 for two years, he was involved in machinery testing and development in the workshop as well as gaining results in National and International support class competition. As a rider Peter was involved in the testing, development and promotion of CZ machinery on the race track and representing the brand, the team and sponsors to the press and public. Personal sponsors were AGV Helmets, Valvoline Oils, Interstate Leathers, Twin-Air Filters and Mick Berrill Motorcycles. Returning to New Zealand for family reasons in 1979, Peter resumed racing on a Montesa Cappra 250VB and then Montesa Cappra 250VF supported by the New Zealand Montesa Distributor. In 1981 Peter retired from Motocross racing after 9 Years of racing to devote more time to Business.

In late 1995, after 14 years of not riding motorcycles at all, Peter was so impressed with the geometry and look of the Ducati 916 he purchased one and commenced riding again. At Track Ride Days he felt at home and it was pointed out that Peter was quicker than many riders on the track, with confidence building, he started road racing only to be crashed out by another rider with Peter dislocating his shoulder on the first lap of his first Road Race. After a brief recovery, Peter returned to racing and by March 1997 he gained 3rd overall in the 1997 NSW F1/Superbike Championship (the premier class of NSW Road Racing) behind Warwick Nowland (first) and Graham Wilshaw.

Peter followed that good start to Road Racing with considerable success along the way, regularly finishing in the top 6 positions of the Australian Championships contested and a Road racing career lasting 18 Years. In 2013 Peter won two Australian Road Racing Championships in Formula Xtreme and was set to continue, however the introduction of a 'Control Tyre' that Peter considered not suited to Ducati, not suited to his riding style and not suited to the tracks in Australia caused peter to conclude a Road Racing career that spanned 18 Years, for all those Years Peter has been supported by; Ducati Australia, Motul Oils, RK Chain, Bridgestone Tyres and Whites Racing Products. As Peter has frequently said "Without the support of my sponsors, my racing would not be possible. Thank you for your support".

From 1996 to 2016 Peter started and ran a Business called Sportsbike, Sportsbike developed, manufactured and exported, imported and distributed, wholesaled and retailed quality motorcycle products and accessories. These were products tested in the uncompromising extremes of motorcycle racing competition and used by Teams in Moto GP, World Superbike, World Supersport and in many National Championships by well established companies.

From the beginning Sportsbike started manufacturing Tyre Warmers. With encoragement and guidance from friend Peter Goddard and through extensive development, Sportbike were able to revolutionise the way Tyre Warmers worked. Sportsbike developed a design of Tyre Warmer that considerably reduced the rate of cooling and enabled a tyre to hold a higher more even temperature at the start line and on the first Laps of a race. This research, development and promotion enabled Peter to work on many World Superbike, World Supersport and MotoGP Teams and with some of the best riders in the World; Troy Corser, Frankie Chilli, Peter Goddard, Mat Mladin, Gianluca Nanelli, Troy Bayliss, Garry McCoy, James Whittam, Andrew Pitt, Alex Barros and Loris Capirossi... to name just a few. Working with these great riders and teams gave Peter rare and unrestricted access to both Factory and Privateer race teams at the highest level, an access he has retained and something that influenced the way he presented and promoted his own racing efforts (only on a much smaller scale).

Peter is a promoter of products and competent at undertaking Product Testing and Development. He has written articles for Streetbike Magazine, Two Wheels, the BEARS Australia Magazine and US Web site worldsuperbikes.com, Peter has gained extensive TV exposure and has had video's made speaking on Motorcycle set up and racing, Peter has been in numerous Magazine photographs including the Cover of Streetbike Magazine. Peter has completed Television Commentaries for SBS Television's Speedweek, he is passionate about racing and loves the challenge of Motorcycle Racing, setting tough challenging goals then doing what it takes to reach them.
Some racing stories
"I was at a Motocross Meeting early on in my racing, I had just finished my first race of the day and this little guy comes up to me and introduces himself, Hi, my name is Gaston, I have watched the way you turn the bike in the air off the Jump just there so when you land you are starting to face the corner exit, it looks good, can I use that idea?" Sure I said and off he went. So now it was my turn to watch him and I quickly saw that there was so much I could learn, he was brilliant on the Suzuki RM125. After the meeting was over and as I was packing up he came back to me and said "I have some ideas to help your racing if you are interested" Interested, am I what, it was the best Motocross Class room I have ever experienced, there was the first World champion I had ever met showing me and explaining everything I could absorb about how to ride and race a motocross bike. It was not the last time I met up with Gaston Raihier (3 times World Motocross Champion and 3 times Dakar winner) and I so greatly valued his interest and encouragement in my riding. I was so saddened when I heard he had passed away as he made a huge difference to me and gave me the confidence to push my racing as hard as I could. Thank you Gaston RIP". "The best Sponsorship request; The call went like this 'Hi my name is Colin Stoner, those... (people) at Motorcycling Australia won't let my boy race here in Australia because Casey is 13 and they say he can not start Road racing to until he is 15, so I am taking my boy to England where the ACU will let him race 125GP, will you help?' Sure Colin I said, how can we help? 'We need one set of your Sportsbike Tyre Warmers' OK Colin, will we get any exposure? 'We will do what we can and probably not much', Will you return the Tyre Warmers after you have used them? 'na, that can be difficult, you may not get them back'. OK Colin, where do we sent them?".

"I understand what riders go through on the bike and off the bike and I know how they think. I was walking down Pit Lane just before the first round of the World Supersport Championship and looked into the Kawasaki Pit Box to see Andrew Pitt sitting there alone yet with his helmet on, I had known Andrew and Carl (his dad) for many Years since we helped him win the Australian Supersport Championship with Peter Doyle and Kawasaki Australia and I knew he had not won a WSS Race all last season, I know as a rider that can eat at your confidence. So I sat in the chair next to him and said nothing, after about 2 minutes he raised his visor and looked at me, so I asked 'So what's the plan?' Andrew said I don't have a plan, so I said 'why don't you just go out there and win this race so that is out of the way and you can then focus on wining the World Championship'. Solely to Andrews credit, that is exactly what he did."

"I will never forget when I rode in the Australian Superbike Support races at World Superbike Phillip Island, I had been in the WSBK Paddock for many Years and many there knew that I raced, yet none had seen me race. After a race on the Saturday I rode back to my Pit Box way out the back of the WSBK Pits and within minutes Stefano Caracchi, Frankie Chili and a host of Team Managers, riders, mechanics and people from the WSBK Teams were there, all celebrating that I had finished 13th or 14th, it was surreal and a very special humbling experience to be celebrated by many of the people I regard as heros and legends of our sport".

"I like to be actively involved and more than that, I like to make a difference and contribute. I do not have the raw rider ability of Troy Bayliss, technical understanding of Peter Goddard or Troy Corser or the ability to ride 'anything' faster than anyone else like Casey Stoner has. Sure I can ride a bike reasonably well, I understand more than I can ever express and I am also just fast enough to keep most riders honest, if there is one single attribute that defines my racing ability it is Tenacity, it is that I just do not give up. If I crash I pick the bike up and keep going, I have finised races with no foot rest, I have pushed bikes over a Kilometer to reach the finish line when I ran out of fuel, I have riden a whole day without brakes just to get the points and I have riden with very painful injuries; when it is tough, I look for a way to enjoy it more. Motorcycle racing is a tough challenging sport, every time I race I need to find what it takes to be committed".

I AM NOT A LEGEND, THEY ARE - I have been Invited to ride 'Display laps' at the Broadford Bike Bonanza with Troy Bayliss and Kevin Magee. I have also been Invited to ride with the GP and TT Legends at the International (Barry Sheene) Festival of Speed with riders: Giacomo Agostini, Piero Laverda, Steve Parrish, Kevin Magee, Troy Bayliss, Graeme Crosby, Jeremy McWilliams, Maria Costello, Frankie Chilli and Cameron Donald and that was something very special, 'Real Legends' the 'Gods' of our sport. I welcome invitations and the opportunity to promote Motorcycle racing and Sponsors.


Memorable Results
"I always learn more with faster competition. I mind it a little less when beaten by the best".
1997 SEASON:
3rd NSW Formula 1 / Superbike Championship,

2003 SEASON:
3rd in Australian Supertwin Cup,
1st in Australian Superbike Championship Supertwin Cup Round 5,
8th Overall in the Australasian Formula Xtreme Pro-Twins Championship.

2004 SEASON:
11th in Australian Superbike Pro-Twins Championship,
3rd in Privateer Cup (Non Factory rider).

2008 SEASON:
2nd Overall NSWRRCH Pro-Twins,
1st NSWRRCH Round 2 Pro-Twins,
6th in Australian Superbike Pro-Twins Championship,
4th Privateer in Australian Superbike Pro-Twins Championship.

2009 SEASON:
5th in Australian Formula Xtreme Pro-Twins Championship,
1st C Grade Cup.

2011 SEASON:
6nd Overall Australian Pro Thunder Championship,
7th Overall in the National Pro-Thunder Championship,
3rd Formula 1 Pro-Thunder Championship,
3rd National BEARS Formula 1 Championship.

2013 SEASON:
Two Australian Road Racing Championships;
1st Australian FX-Thunderbike Championship,
1st National FX-Thunderbike Cup,
Ducati Owners Club of NSW Club Champion.

2018 VMX CHAMPIONSHIP SEASON:
1st Overall NSW Heaven Single Bike open Championship,
3rd Overall NSW Heaven Evolution 250cc Championship,
3rd Overall NSW Heaven Over 55 open Championship,
Top 10 Overall NSW Heaven Evolution open Championship.

2019 VMX CHAMPIONSHIP SEASON:
EVOLUTION 250cc CHAMPIONSHIP - 5h out of 24 contesting.
OVER 55YR CLASSIC CHAMPIONSHIP – 6th out of 29 contesting.
SINGLE CLASSIC BIKE CHAMPIONSHIP - 2nd out of 24 contesting.
AUSTRALIAN PRE-1985 125cc POST CLASSIC CHAMPIONSHIP – 5th Place.



THE NEW CHALLENGE, VINTAGE MOTOCROSS - To satisfy the still existing 'Red Mist' Peter has started Vintage Motocross racing on a 1979 Honda CR250RZ Elsinore 'Red Rocket'. "For 2020 I will have two bikes, the present Classic 1979 CR250RZ and a 1989 CR250RK that Bill from Ultimate Framework and I are building. Ten years is a lot of development and there is more racing for a Post-Classic bike, I should also find it much easier on my body. My ambition is to take two or three Years and win an Australian Championship to add to my Road racing titles. I do not expect this will be easy and I am confident I will succeed".

Your Sponsorship and support is invited, so if you have a product or service to promote, please contact to discuss how sponsorship can work for you, call Peter on the number below.

CONTACT FOR: ADVERTISING - DEMONSTRATIONS - DISPLAYS - PROMOTIONAL EVENTS - COACHING AND CONSULTING.