NEWS & RACE REPORTS
__________________________________________
11th November 2019.

SEASON 2019 WRAP. "I wish to express my thanks and appreciation to YOU..."

When someone asked me what is 'missing' today I answered; Acknowledgment (of others and of what is so) and Leadership. Accordingly, I wish to express my thanks and appreciation to YOU for reading my Race Reports and to my Sponsors for the support and contribution that makes my racing possible. The Heaven Motorcycle Club is run by an exceptionally dedicated and hard working Committee backed by Volunteers who all generously give their time to run the Club and race meetings. A thank you to all those involved including the Committee, Members, Volunteers and Flaggies who make it possible for us to ride and have a bacon and egg roll for breakfast. Thank you to Judy for encouraging me to go racing. Thank you also to the Heaven members who make the race meetings fun and for their encouragement, guidance and enthusiasm for our sport. Thank you to Andrew & Beverly MacIntosh for the fun and laughter pitting together and time riding at the farm. Thank you to Fabio, Chad, Keiron and Jorde for training with me at the gym. And a big thanks for the great race images from Diana Harding and Kristina Zivanovic.

I always refer to the lap times and finishing results as 'The Truth', because in my view, everything else is made up. this year I have had to make so much up. I have worked hard to improve my riding and speed. I am now riding faster and better than last year when I won one Championship and finished third in two others. This year however I was not able to improve on my results as I expected and I find it so much easier to write a season report when I have achieved my objectives.

I was in the top three of every Championship Class going into Round Four of Six at Nowra and I was confident I could improve my position in all three classes... At Round Four Nowra, my races were all on Sunday morning and in two races the gate did not fall, simply the gate stayed up and to start I had to I ride over it. For the next race I chose a different gate and it did not fall either, so I rode around it. In both races, the gates not falling relegated me to absolute last into turn one by a long way. I did the best I could and with only four laps, the races were too short to make up for a poor start. I just did not have the talent and enough laps to catch up and recover points. By lunch time the officials had recognised there was a mechanical issue with the gates. Regrettably, I had dropped from second to fourth in the EVO 250 Championship and from third to sixth in the Classic Over 55 Years championship with two rounds to go.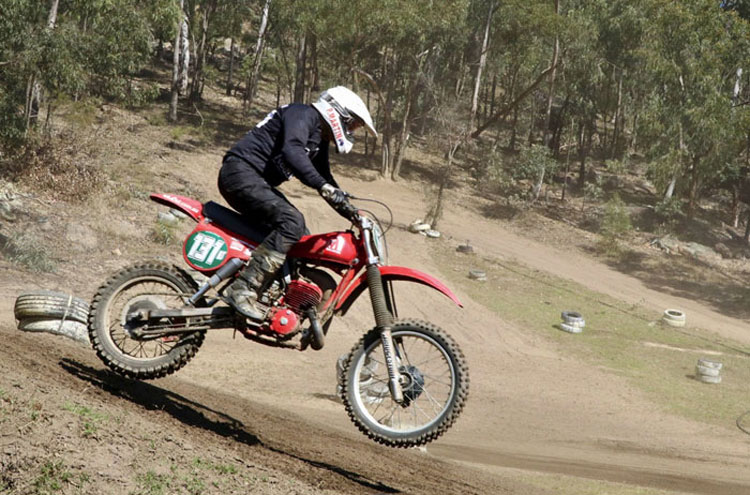 The mercurial sand of Dargle MX Track. Kristina Zivanovic image.

At Round Five Dargle, again all three of my Championship races were on Sunday morning and each race had about 20 riders. In the Over 55 race I was about 5th into turn one and I was pushed wide allowing riders through. I struggled to keep in the ruts in corners and ran wide a couple of times eventually finishing 10th. In the Single Bike Championship I was 4th into turn one and put my head down in an attempt to move forward. Once again I struggled in the ruts allowing riders to pass. I ended up 13th. The Evo 250 was the important Championship for me. We are all of the same age and same size bikes. I got a great start and was about 5th through turn one, I held the position for a lap and a half keeping the rider's ahead in sight, when entering turn 3, the chain jammed on the chain tensioner and almost through me over the bars. I tried in vein to get the bike mobile but the chain was jammed solid. I was out of the race for my first DNF of the year. In response, I returned to the Barry Cockle at Dargle two weeks later and rode 9 races so as to learn the mercurial sand ruts of Dargle; I was determined to learn how to ride sand ruts and to become a better rider.

Last roll of the Dice. I came to the final round of the series with considerable apprehension. I was the defending Champion in the Single Bike Championship and first equal on points. I was also recovering from a serious bout of Vestibular Neuritus and had to completely retrain my balance in the four weeks leading up to the final round. To say that I was struggling is an understatement. I needed all the track time I could get. Unfortunately the organisers changed the schedule to have two practice and two races Saturday and one race Sunday. This significantly reduced the track time to get my head around riding a bike. This change totally threw my preparation into a hole.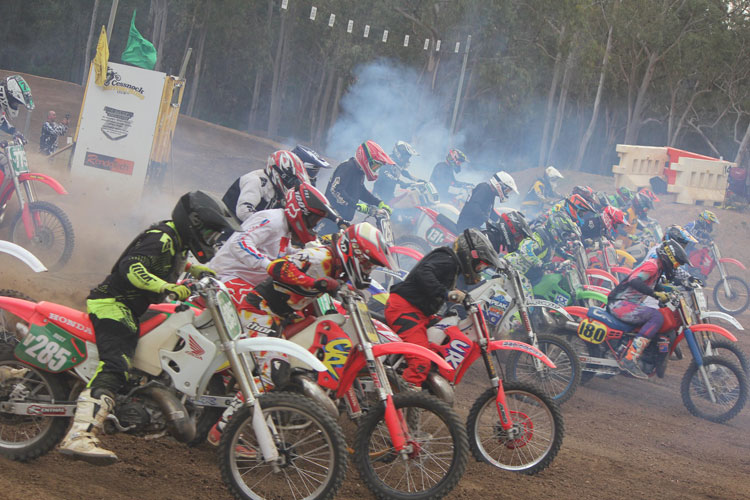 Single Bike Championship start, only 8 riders were eligible for points. Diana Harding Image.

In the Single Bike Championship final race, I was disappointed to see a full grid of about 42 riders. Some how everyone was let into the race. I know this was an error because only 8 riders ended up being awarded points and yet a full grid distorted the results for the riders actually contesting in the Championship. For me this decision made it considerably harder to challenge for the Championship as I was fighting against lots of young guys on newer bikes. I started poorly (which was my fault) and then there was a wall of dust, bikes and riders to work through. It felt like I passed half the field on the first lap, regrettably four laps is not enough to make up for a bad start.

In the end these are my 2019 Championship results;

EVOLUTION 250cc CHAMPIONSHIP - 5th out of 24 contesting.
OVER 55YR CLASSIC CHAMPIONSHIP – 6th out of 29 contesting.
SINGLE CLASSIC BIKE CHAMPIONSHIP - 2nd out of 24 contesting.
AUSTRALIAN PRE-1985 125cc POST CLASSIC CHAMPIONSHIP – 5th Place.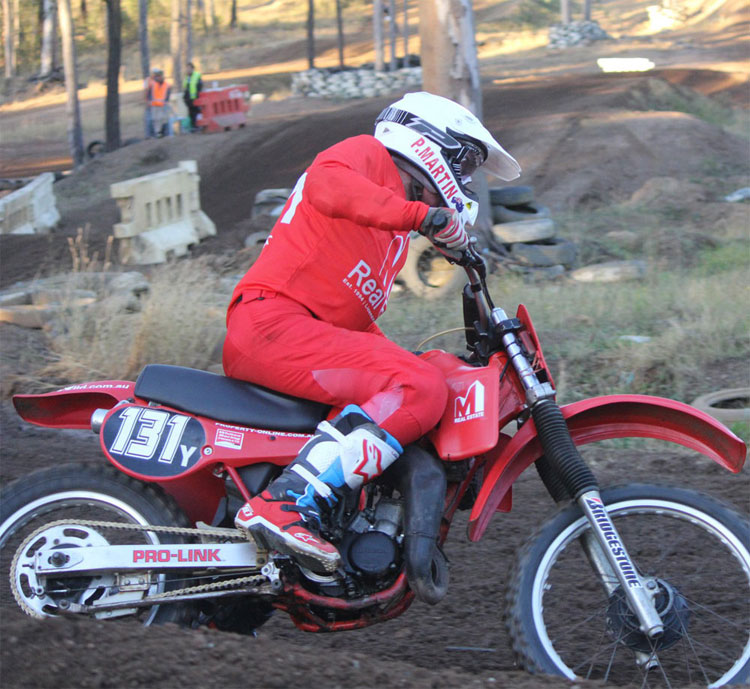 5th in the Australian Post Classic Championships on the CR125 RC. Diana Harding image.

Its been a great year of racing and the Heaven Club has created many excellent events and a great Championship for us all. When I look at the year and how it unraveled, I would like put forward some suggestions for the Heaven Committee to consider;

1. While non Championship and Club races can be a shorter length, Championship races should be a minimum of 5 laps. The present 4 Laps gives too much advantage over a bad start or a start influenced by other factors. This would assist to ensure a fairer result in races and Championships.

2. Develop a format for race meetings and keep it the same at Championship Meetings (unless there is an occurrence requiring change). The Riding / Practice Saturday with all Races Sunday works for the Club financially and for a majority of riders especially those who can only get Sunday off.

3. Only allow riders on a grid when they are properly entered in the race.

In the off season I will be working on my fitness and riding skills to be competitive in the coming year. For 2020 I will have two bikes, the present Classic 1979 CR250RZ and a 1989 CR250RK that Bill from Ultimate Framework and I are building at the moment. Ten years is a big difference and there is more racing for a Post-Classic bike, I should also find it much easier on my body.



Two bikes at the Post Classic Championships at Cessnock.

There is a group of people and their products that make my racing possible, they are the Companies and Brands that provide support, for 2019 I have been privileged to represent:

M REAL ESTATE – If you are considering an Investment property, this is where you go. You will be listened to and supported to accomplish your objective. M Real Estate has access to a wide range of properties in the major cities of Sydney, Brisbane & Melbourne along with some of the larger growth centres. Using knowledge and experience MRE focus on fulfilling the purchaser's criteria whether they be an investor, owner occupier or first home buyer – Call Judy on 0409 044 088.

P MARTIN & Co – For Small Business consulting and coaching, For Real Estate Consulting and Project Management, Sales strategies, Sales closing services and for Business coaching, training and Mentoring – Call Peter on 0403 916 996.

ULTIMATE FRAMEWORK - Ultimate Framework (UF) are production Engineers. From port facilities, bus shelters, rescue chopper bases, factory production machinery, process line maintenance and local Council amenities to one off prototype manufacture, fabrication and welding. UF has the flexibility to consider both big and small jobs – Call Bill 02 9666 9677.

MOUNTAIN SHADE – Do you want a high quality & durable Marquee built to Australian design standards? We did and we have used Mountain Shade for two Years, when other marquees are blowing away or collapsing, Mountain Shade stands firm and looks great. Do not compromise on quality or price, Free design service, Free delivery Australia-wide - Call: 1300 850 832.

PIVOT PRGZ – Every point of contact on a motorcycle is important, especially the feet. To have Pivot Pegz means that I can have solid contact at all times, wide for better grip and pivoting as I go over jumps or rough terrain, always good contact for foot control and good angle for comfort. There is none better, for fitment confirmation, please call 03 6423 1800.

BEACONSFIELD MOTORCYCLES - Beaconsfield Motorcycles provides the highest level of service and support, a level most Dealers have forgotten about. For bike service, parts and support to keep your bike running well, BMS will look after you, visit 7/24-26 Burrows Rd, Alexandria NSW 2044 or call: 02 9318 0008.

WHITE'S RACING PRODUCTS – Go here for all Motorcycle Tyres and Accessories. With a fitting service every Thursday night until late, there is no better service or more supportive than WRP and with straight advice every time. For your Tyre needs call Craig on: 0413 461 353.

GT TOOLS – I am amazed at the quality and how easy it is to use GT Tools, the rolling chest came with all the tools I need at the race track and they have proven to be reliable and good quality. Do not buy cheap, poor quality tools, get GT Tools for a brilliant price and for great quality – visit: https://garage-workbench.com.au/

CANVAS MX APPARRELL – I have never been happy to have some big brand mx clothing maker plastered all over me so I advertise them for free. They do not contribute to my racing so I am happy I have found Canvas MX, they custom make and print my MX race shirts and pants in the colours I want and so I can say what I want to say on my gear. It means I promote the Companies that support my racing and not some fat cat for free. Take a look at; https://canvasmx.com/

SUOMY HELMETS – You do not really appreciate a Helmet until it prevents an injury, for me I have learned that I can only afford to use the best safety equipment when on a Motorcycle, anything less is a risk and an invitation to injury. Consider Suomy visit: Picture Me Rollin Motorcycle Accessory Emporium, Surry Hills, Sydney.

Wishing you a very Merry Christmas and Happy New Year.
Ready to go racing. Kristina Zivanovic image.
Gloucester TT Poster. Kristina Zivanovic image.
__________________________________________